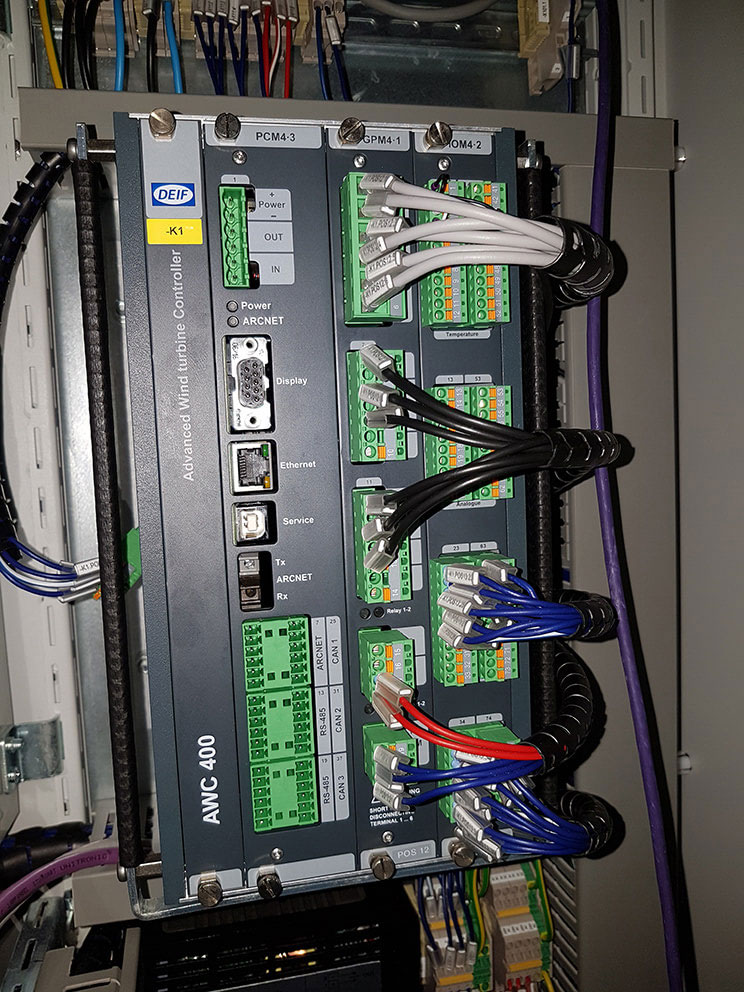 DEIF Control System Retrofit
Realise Energy Services have partnered with leading European control system manufacturer, DEIF Wind Power Technology, to offer a range of turbine retrofit solutions designed to optimise turbine efficiency, maximise turbine performance and increase production of your wind turbine.
With an impressive background in turbine control system design and manufacture, DEIF offer a comprehensive range of wind turbine retrofit control solutions including wind farm & pitch control technology and turbine control strategies.
Realise Energy Services' DEIF-trained technicians are now able to assess your turbine and design, model and install a bespoke DEIF solution tailored specifically to your turbine. This can optimise production with increased functionality and reduced wear and tear ensuring improved turbine performance and availability.
We can offer clients a range of cost-effective, yet high quality retrofit solutions manufactured by DEIF who have a proven track record across a global fleet of hundreds of Vestas turbines supported with our locally based operation and maintenance and turbine monitoring services.
Key Benefits:
Increased income;
Reduced maintenance costs (subject to O&M contract type)
Benefits achieved through:
Higher availability and less downtime
Improved efficiency
Increased Annual Energy Production and performance
Reduced maintenance costs over the lifetime of the turbine through reduced wear and tear and by replacing outdated parts with new technology
Extended turbine lifetime
New management system (SCADA) interface
Automatic reset of alarms
Full control of turbine parameters
New intelligent power and speed control
Derating strategies to avoid stops
State-of-the-art turbine control software